The process of creating a new website is much more automated than many people realize. What once required having your own on-call website developer can now be accomplished by anyone online. Dozens of website builders offer drag-and-drop design simplicity–if you have a rough idea in your mind of what you'd like your site to look like, you can make it happen. Even better, most sites are populated with outstanding professionally designed templates to make your job even easier.
The more difficult task becomes figuring out which site is best suited for your needs. A little bit of planning goes a long way. What will you want your website to do for you? Are there any features you know you absolutely must have? What about in the future, are there things you'd like to expand into? Just having a basic outline of your requirements makes picking the best website builder all that much easier. See various types of websites with examples.

We have curated a list of the best website builders for 2022. Choose the website builder that is best suited to your style and requirements. You can compare the website builders, based on their features, pros and cons, and pricing plans. Simply click on the name of the website builders listed below, to know more.
Here are the top website builders for 2022
Pixpa - Best and Popular Website Builder
Squarespace - Best Website Creator for Personal Sites
Wix - Best Website Builder for Small Business
WooCommerce - Customizable eCommerce Website Builder
BigCommerce - Website Builder for Big Stores
Webflow - Website Builder for Graphic Designers
HubSpot - Popular choice for businesses
Carrd - Website Builder for Small Websites
Web.com - Website Builder with Built-in Tools
GoDaddy Site Builder - Best for Basic Websites
Quix - Best No Code Website Builder
Before we start comparing these popular website builders, let us look at what are the factors you should keep in mind while choosing the right website builder platform.
What Kind of Websites Can be Created With a Website Builder?
Website builders have come a long way in the past few decades, and today there is very little need for anyone to resort to the actual coding of a website. Even people with extensive coding experience have to wonder at this point, what's the point of sticking it out alone? The best website builder will allow you to completely customize your page for an entirely made-from-scratch look while being drag-and-drop simple to make.
The key to finding the right builder for you is to narrow down precisely what you want your site to do. Some companies specialize in photographer online portfolios website, blogging for writers, or e-commerce for online shops. Most sites will offer all of these features, but sites always excel in a niche area first.
All DIY website builders share a similar workflow. Once you've decided on the website builder you want to use, you select your favorite template. You can then use the design function to customize that template as you need for your website.
This is where the real difference between companies comes out. How easy it is to change the template to suit your needs varies considerably from one site to another. You'll want to be able to change the basics, like colours, fonts, and images. You also want to make new pages, change the order of pages, and customize navigation. Have you been wondering how much it will cost to design a website, here is a easy to follow guide you can read.
But sometimes, you want to remove or add entire elements, like take out a textbox here or insert a video element there. That's where drag-and-drop website builder editors can shine. Some websites lack this ability completely, and you need to make what they have work. Others allow complete and total control over the design process. There are many ways to design a website.
How to Choose the Best Website Builder?
Let us look at the main decision factors that you must consider before choosing a website builder for building your website or online store :
Features
Design and Templates
SEO and Marketing Tools

Ease of Use
Pricing Plans
Customer Support

Features
The first and foremost decision criteria for choosing a website builder is the feature-set offered. Basically, will the builder allow you to build what you need to build? Starting with a clear mission and plan for your site helps, so you'll know in advance what features you're looking for.
This is an area where it pays to plan ahead a little bit. Where do you see your site in five or ten years? Of course, no one knows the answer. But think it through, nonetheless, and see what other features might interest you. You can migrate to another web provider or host, but if you've used a builder, it will nearly always mean starting the design process from scratch.
The best website builder functions, and some of the most frequently used features, include the following.

Photo galleries

e-commerce for product sales

Email marketing plugins

Advertising and marketing tools and plugins

Traffic and social media engagement statistics

Blogging tools

Mobile websites

Design and Templates
Next, look at the design that has gone into making the website builder. There are two facets. First, look at how it looks from your standpoint, as their customer. Secondly, look at how your final product is going to look at from their point of view.
A little bit of digging is required for this phase. Hopefully, the web builder's site has sample pages that you can check out. The goal is to have a look at how well those pages integrate the features you need. How does the design look? Can you imagine your site working with their designs? If the designs don't grab your attention, you should move on. There are plenty of website builders out there, so pick one with templates and designs that you like.
All of these sites feature numerous layouts, but some are better than others. Sometimes, if you need a particular feature that they offer, you discover that they only have one layout that uses that feature. If you don't like that layout, you'd better be ready to try something else. For example, many company's say they have photo galleries. Upon further inspection, it's not uncommon to discover only one gallery option that isn't very customizable.
SEO and Marketing Tools
Most people understand that some websites are better for grabbing web search results than others. A lot of it has to do with the content on the site. Which keywords are chosen or how often they appear in what sort of content affects your search engine results.
But web designers know that search engine optimization goes even deeper than that. To make it happen, you need the right tools, and it's up to your website design company to supply that capability. So if you are interested in getting your page to rank well, and who isn't, you need to ensure that the designer you choose has the right features.
If you're wondering how to choose the best website builder, the four things it should always include are the ability to customize all meta titles and descriptions easily, mobile-friendly themes, SSL certificates, and fast performance. These factors will help any website that has proper SEO built-in rank well. They're the things you really can't change later–you can always improve your metadata descriptions and titles, but you can't fix it if your provider's speeds are so slow they affect your rank.
The good news is that most of the popular website builders meet these basic minimum requirements. Mobile-friendly sites might require upgrading to another price level, and meta info updating can sometimes be clunky and hard to find. But the good sites are fast, and SSL certificates are now the standard.
As you design each page in your template, you will need to update each page's metadata. This is an area where some builders can stand out. How easy is it to custom that data? Do you have to go into the code, or do they have a slick interface to make it happen faster?
There is more to marketing than SEO alone, however. One handy tool that some providers give you is access to abandoned carts, which happens many times in online sales. When a customer visits your site, starts buying something, and then fails to complete the transaction, the cart is considered abandoned. Being able to send a follow-up email and offer them an additional discount, or simply getting an alert to tell you that the cart was abandoned, is powerful marketing intel. Other common marketing tools that come in handy include mailing lists and pop up notifications.
Ease of Use
When it comes down to it, you're picking a website builder because it's easy to use. It's easier to use than coding and designing your site from scratch and finding your own host. But exactly how easy is it to use in the end, when you're laying out your webpage feature by feature? Most sites realize that this is going to be their measure of success, and they put a lot of time, effort, and money into making their process easier than everyone else's. The easier it is, the more customers they can attract. And the easier it is, the more customers complete the process and keep renewing their subscriptions.
Still, some are easier than others. You may find you have to find the right balance for your site. On the one hand, there is the site's ease of use, and on the other, there is its feature set. The easiest to use sites tend to be the ones with the fewest options and the least amount of customizability. In this way, website builders differentiate themselves as better for beginners, or better for more experienced website creators.
Besides playing around with the building tools and using free trial offers, it also helps to read reviews of the site made by actual customers. These sites are robust, with a lot of coding work that goes on in the backend. There are always bugs and glitches. How much time do people spend trying to get the thing to work as advertised? When there are glitches, are they addressed quickly by customer service?
Pricing Plans
Website builders' pricing plans are all over the map. There are free options available, but most of the best easy to use website builders require a monthly subscription fee. Since you probably plan to keep your site live for a while, it makes sense to take advantage of any pay-up-front discounts. The monthly fee most sites quote is only valid if you pay for a year upfront, for example.

Can you build a professional website for free? Many sites offer free plans, but there is always some catch. From their perspective, a free plan is a way for you to try out the product. They know that it will entice a lot of people to sign up. The ones who like the service and find it meets their needs will upgrade to get more features or more bandwidth.
Free websites will have some crutch that will make them appear less than professional. For one thing, it might have ads. That might be fine with you, or you might want to put on your ads. Free sites might also be limited to only a specific and smaller set of templates. Each web builder does things a little differently, so before being drawn in the promise of a free website, do some research and see what the actual cost of "free" is.
Pricing tiers on website builders often require some careful reading to understand completely. Many have limits on the amount of data you can upload or the amount of bandwidth you can use every month. If you are limited on bandwidth, and your site takes off, you might have to shop for bigger plans sooner than expected.
There are many other ways companies make their pricing plans different. Simple features that you might expect to be included sometimes require a higher service plan. Take, for example, the simple idea of having a custom domain name. To do this on some sites, you need to have an upper-level plan.

Customer Support
The final thing that differentiates different website builders from others is their customer service. Can you always get a quick response to emails, or do they have a live chat feature? As you're setting your site up, you need problems solved quickly. If they aren't, the creation process can drag out much longer than it needs to.
Some providers have tiered customer service levels that depend on which pricing structure you subscribe to. They nearly all advertise 24/7 customer service, but you get priority handling as a bonus for subscribing to premium-level service. This usually means that while other subscribers are waiting for a reply to an email, you can access a live chat or a much fast response. That can be helpful if you're setting up your site.
Pixpa - Best and Popular Website Builder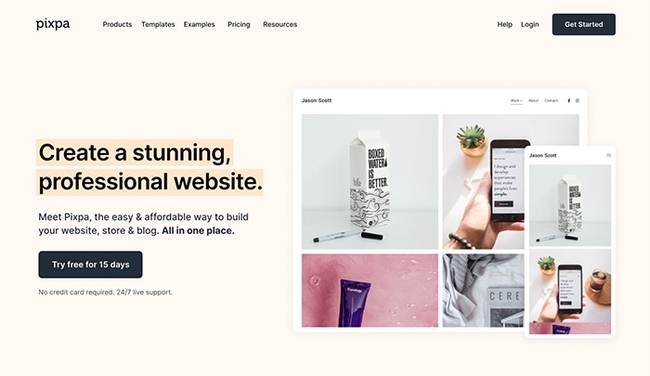 Pixpa is a little different from most other popular website builders in that they have a particular customer in mind. Everything about Pixpa, from the ground up, is designed with the creative professional in mind. Pixpa offers powerful built-in tools of a website builder for photographers, like client-proofing galleries that enable photographers to share, proof, deliver and sell images as prints and downloads to their clients using a fully digital workflow. But other creative professionals can also get a lot out of this all-in-one website builder, too, including graphic designers, fashion designers, architects, and visual artists of all types.
Pixpa is an all-in-one platform for creators and small businesses to create websites complete with a built-in online store, blog, and client galleries. Pixpa's versatile platform has everything you need to showcase your work, share ideas and sell your stuff online, without any coding knowledge.
Building your website on Pixpa is super easy. Begin by signing up for a 15-day full-featured trial. Pick a template of your choice as the starting point. Pixpa offers a multitude of stunning, pixel-perfect, mobile-friendly templates. You can customize your site design using a simple & powerful visual style editor. Adding pages to your website is a breeze with Pixpa's drag-and-drop page builder. With a host of built-in tools such as SEO manager, Marketing Popups, Announcement Bar, and much more, you don't need any extra plugins to start growing your traffic and converting more leads.
Since its focus is clearly on creators, it's unsurprising that Pixpa templates and sites are gorgeous. Here are the best examples of portfolio websites built on Pixpa, for your inspiration. Their designs are clean and modern, and they offer many features that others don't only because of the types of sites people make here. The client galleries are the best example, where an artist's clients can be provided a log-in to access their photos. Clients can then select, share, or save their favorite photos in proofing mode. With simple e-commerce integration, photos can be purchased directly from the website in print or download form. Pixpa goes one step further and can even create a custom mobile app for clients to download to their devices.
Keeping in mind their customer needs and expectations, Pixpa has spent a lot of time getting their templates and websites to look great on any size screen. All sites are mobile-friendly from the get-go.
Pixpa delivers stellar customer support, which means their representatives will help you navigate through any issue, and address the problem quickly. Fortunately, we've done the work of searching for you. Check out these top useful websites that each offer something worth checking out.

Pixpa offers all-inclusive pricing plans that are simple and affordable with no hidden costs. While there is no free plan, subscriptions start at just $7/month making it one of the most affordable yet feature-rich platforms. All plans offer generous resources, unlimited bandwidth, SSL certificates, and 24/7 support. It also offers a 30-day money-back guarantee on all new subscriptions.
Pixpa Customer Support
Alongside the product, one of the strong pillars of Pixpa is its 24/7 support through live chat and email with a response time of under 5 minutes, ensuring help is always at hand. Pixpa's support goes beyond just answering questions, as they try to help users build their websites the way they want. There is a comprehensive help center as well with guides and step-by-step tutorials.
Pros and Cons
Pros
Specifically built for creative professionals and business models
Multiple different types of galleries, including multimedia, Instagram, and slideshows

Client proofing tools are unique

Client-specific apps at the upper pay levels

Many features allow you to add more functionality to your site, like blogging and e-commerce

Built-in online store - a full-featured e-commerce store builder with all the tools you would need to run your online business - products and inventory management, discounts, taxes, shipping, abandoned carts, and easy order processing. This makes it one of the best website builders for business.

Pixpa's beautiful, responsive templates that are modern and minimalist in design aesthetics are one of its core USPs, and make it one of the best website builders for designers, artists, and professionals.

Unlimited bandwidth and fast loading times

Unparalleled support for selling digital products with instant downloads

Integration with many popular tools and pages like Stripe, Paypal, Shopify, MailChimp, YouTube, Vimeo, and Google Translate

Never any ads

Cons
Geared towards creative professionals, options limited for traditional storefronts

Pixpa does not have a built-in ability to purchase a custom domain name.–you'll have to use another website to do that, which isn't difficult

Pixpa Pricing
Pixpa offers three pricing tiers, from $7 to $16 per month if billed annually. While all three share the same basic feature-set, some upgrades are worth looking into the advanced accounts.
The Personal account is limited in the number of pages or galleries it can contain, and the gallery is limited to 200 images. Both Expert and Business accounts are unlimited in this regard. If you have many pages you need to display, or you were hoping to put on more than 200 images, you'll want to look at the Expert level.
There are a few other differences between accounts. One of the unique things about Pixpa is their individualized gallery apps, created for your clients. Those are only available at the Expert-level, with 25 apps created, or the Business-level, with unlimited apps made.
Expert accounts add some incredible marketing tools, like basic marketing popups and announcement bars. Expert and Business-level accounts also have access to a Pixpa expert, who will help you set up your site and save you time.
Business accounts allow you to accept payments online. They also have more advanced marketing tools and more e-commerce options.
Pixpa offers a 15 days free trial so that you can experience first-hand their easy-to-use website builder. By testing the interface and seeing the theme options yourself, you can get a great idea of what the site is capable of.
Squarespace - Best Website Creator for Personal Sites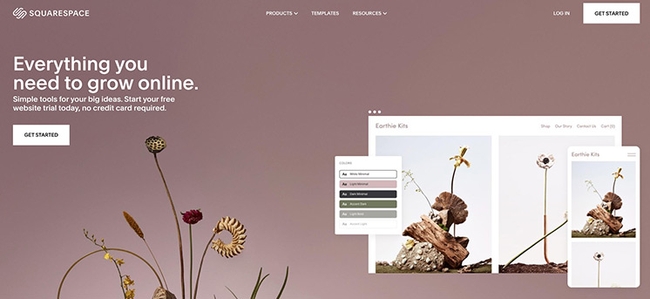 Squarespace has built its reputation on having a clean, appealing design. Their templates are modern and look sharp. It has a fresh look, which comes from minimalist designs with lots of white space. Using Squarespace is a similar experience–it's well thought out and an easy website builder.
Squarespace is an excellent choice if you're looking for a website builder that can do it all. Squarespace can do blogging, podcasts, photo galleries, and e-commerce. While other sites may be great for one particular element, Squarespace is good at them all. Many professional websites are blends of one thing or another, so this option might be vital if you're looking to mix and match capabilities.
Pros and Cons
Pros
Simple pricing structure, with no transaction fees and no future costs

Good looking template designs

Themes look great on any screen

Excellent features for bloggers

Lots of customizable options for bloggers

Plentiful and scalable e-commerce options

Enterprise-grade infrastructure and security

Cons
Not quite as easy to use as some others, but pretty good give the customization possible

Limited payment gateways–currently only Stripe, Apple Pay, and Paypal can be accepted

No backup or restore features

No app market for external applications or automatic website integrations

Squarespace Pricing
Squarespace has four pricing levels, ranging from $12 to $40 if you pay for a year up-front. All plans include custom domain names and the SEO features you'd expect, plus 24/7 customer support.
Personal plans are limited to only two contributors, so they are uniquely suited to small businesses that don't have a large team working on their site. Personal sites also lack the e-commerce interface, so they have no marketing tools to speak of or the ability to take customer payments. For these options, you'd want the Business or Commerce plans.
The highest level, the Advanced Commerce account, has the most robust set to cart features, including abandoned cart recovery, discounts, subscription billing, and advanced shipping quotes built-in.
Squarespace offers a 14-day free trial, so you can set up your site and then decide if you want to continue using their service. It's an excellent way to get a feel for the interface and features.
Wix - Best Website Builder for Small Business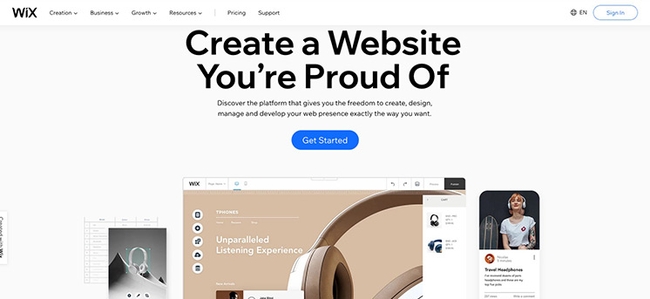 Wix is easy to use website builder that is consistently rated as one of the best ones on the internet. With over 110 million websites created, it definitely has a track record. Their focus is and historically has been on easy-to-make websites, so it's no surprise that their Wix ADI requires minimal effort on the part of the end-user.
What is neat, though, is that they've expanded their offerings to allow much more customizability than you might imagine. On the other end of the spectrum, Wix can also accommodate websites built entirely from scratch for an unlimited customization level. That level of creative freedom in the Wix website builder is wonderful for artists with some design experience who want to dabble in web design but don't want to code from scratch. Here is an example of top web design portfolio website examples you can check.
1. What are pros and cons of website builders?
Pros:
Easy to use making website building possible for even beginners and non-coders

Cost-effective since you do not need to hire a professional to create and manage your website
Most website builders come with built-in SEO and marketing tools.
Cons:
They are subscription services which means you do not own your website outright but have to pay a fee to use the service
WordPress is known throughout the web design world for its open-source plugin design options. Many designers work with WordPress.org, and with it, you can make any website you'd like. Most web hosting sites allow you to install and WordPress plugin and get designing.
That version of WordPress is not very easy to use. There's a steep learning curve, almost like learning to use an advanced program like Photoshop for the first time. And unlike WordPress.org, this version includes its own hosting.
But they also have a website builder called WordPress.com. Like the others on our list, the WordPress website builder is a one-stop-shop solution that includes templates and drag-and-drop design. Instead of having a drag-and-drop website builder, WordPress.com uses a form-based system that's a little less intuitive to use. If you have experience with the standard WordPress admin site, WordPress.com still gives you access to that and all of the detail that it provides. WordPress has always been a blogging website builder, and WordPress.com continues with one of the best feature sets of blogging tools available.
Pros and Cons
Pros
A streamlined interface makes it intuitive and easy to use

One of the biggest feature sets for blogging available

Cons
Form-based layout technique requires a little more trial and error as you build

To use WordPress plugins, you need an upper-level plan and to use the standard WP-Admin interface, which is much less user friendly

WordPress Pricing
The WordPress.com builder has inexpensive plans ranging from the $4 per month Personal plan to a $45 per month e-commerce plan. All include a free domain name and the ability to collect payments. Only the middle Premium and upper Business levels offer the ability to have videos, ad revenue, or Google analytics.
The Business plan also includes SEO tools and plugins unavailable to the lower plans. International shipping and payment collection is only available on the e-commerce plan.
Woocommerce - Customizable eCommerce Website Builder
Built on WordPress, Woocommerce competes with Bigcommerce and Shopify as the biggest and best website builder out there for eCommerce. However, unlike many of the options on our list, Woocommerce is a plugin that you install and run on your existing website. So you can't really start dragging-and-dropping without doing some setup first. To start, you must set up your hosting with a company that supports WordPress, link your domain name, and then install the Woocommerce addon.
Pros and Cons
Pros
Integrates with all of the tools online shops need like payment gateways and social media sites

Full functioned mobile app for controlling your store on the go

Woocommerce is a free plug-in for WordPress, so costs are low

Cons
Woocommerce is just a plug-in that runs on a WordPress site--in other words, you'll still have to find and pay for hosting and domain names

Some themes and tools may cost additional money to set up

More complicated setup than other site builders on our list

Woocommerce Pricing
Both WordPress and Woocommerce are free, open-source software packages. There will be costs associated with each one, including things like hosting and a domain. Most businesses will need to install extra features, which can cost much more. This flexibility in pricing makes Woocommerce appealing for companies that need a lower startup cost and more long-term flexibility.
Bigcommerce - Website Builder for Big Stores
Bigcommerce is specifically directed at eCommerce sites. So if you've got your eyes on selling goods in an online store, Bigcommerce is worth a look. With such a particular focus, the only other prominent builder directly targeted to the eCommerce market is Shopify. Unlike Shopify, though, Bigcommerce's platform is directly linked to WordPress. That gives you a lot more creative control and access to many more addons and plugins.
Pros and Cons

Pros
Fully hosted solution, no other add-ons to worry about

Native WordPress integration

Features integrations with all of the popular payment gateway services with no transaction fees

Great sales features like abandoned cart functions, coupons, reviews, and more

Unlimited scaleability--your website can grow without limits

Cons
More expensive than other eCommerce options, but comes fully-loaded

Harder to use than Shopify with a less intuitive design

Bigcommerce Pricing
First off, you can get a 15-day free trial of any Bigcommerce plan. Then, if you choose to stick with it, you'll be billed $29.95 for the basic plan or $79.95 for the plus plan. The pro plan is $249.95 a month and includes every feature you could ever ask for.
Webflow - Website Builder for Graphic Designers
If you're looking for the best website builder to customize any way you want, Webflow should be on your shortlist. It really allows you to edit your content in any way imaginable. But with all that power comes a big downside--it has one of the steepest learning curves of any site builder.
Pros and Cons
Pros
Custom design power is unmatched with other builders

Full CMS (content management system) available

Cons
Higher-end tools aimed at website designers with more experience at design and coding

Bigger learning curve than other builders

Webflow Pricing
The basic plan at Webflow is $12 per month and includes all of the typical goodies. If you're turned on by the CMS function of Webflow, though, you'll need to upgrade plans to $16 per month.
HubSpot CMS Hub
HubSpot's CMS software is a popular choice for businesses that want a platform that doesn't require technical programming or design knowledge and can easily integrate with their business database.
Pros and Cons
Pros
Offers seamless integration with your CRM software, making it easy to track and manage customers and prospects from start to finish.

HubSpot CMS's Smart Content functionality allows you to customize your website's content and CTAs based on information extracted from contact records, which improves the user experience and increases the conversion rate.

You get an integrated CDN and SSL certificate with the initial setup, without the need for you to invest resources and time in complicated technical configuration.

The drag-and-drop editor is simple and easy to use, even for beginners.
Cons
The starter plan ($25/month) only allows the creation of 15 web pages. The next plan at $340/month (Pro) may be a bit pricey for small businesses.

Customization options are limited compared to other website builders.
Carrd - Website Builder for Small Websites
As their name suggests, Carrd is designed for simple one-page websites. These web cards are perfect for personal websites or very basic business sites and landing pages that are digital advertisements. Think of them like digital business cards--name, address, phone number, and a few photos.
Pros and Cons
Pros
Easy to navigate purposeful designs that are customizable to match your business's identity

Simple product with low pricing (even a robust free option)

Cons
Requires a little bit of experience with HTML and coding

Not the simplest page designer

Carrd Pricing
Carrd's primary offering is free - a free account can make three different sites. But there are some significant limitations, including the use of custom domain names, analytical tools, or adding widgets or forms to your site. To do stuff like this, you'll have to upgrade to the pro version for $19 per year.
Web - Website Builder with Built-in Tools
Web.com was one of the first site builders out there, and since they're still a website builder 2022, they obviously know what they're doing. Their pricing is excellent, but it's also piecemealed. If you want a simple builder and don't need all of the tools, their plans start at only $1.95 per month. You can then add what you need to make your site work, whether it's better marketing tools or eCommerce functionality.
Pros and Cons
Pros
Easy drag and drop builder that also allows complete customization

Add unlimited pages to your website, plus photos, videos, and social media buttons

All templates are 100 percent mobile friendly

Ecommerce options available for up to 50 products

Plans come with free domain name, business email, backup, SEO and security tools

Cons
Some functions limited--blogging tools are lacking, and ecommerce stores capped by number of items

Hard to switch to new providers in the future

Very affordable, but plans are divided by features so you may wind up paying more than others in the end

Web.com Pricing
While many website builders charge for their platforms on a tiered plan scale, web.com's pricing model is slightly different. You can get a barebones plan starting at $1.95 per month, but you only get access to their beautiful templates and their drag-and-drop builder. WordPress sites start at $7.99 per month.
To access the SEO tools and a few other functions that most small business owners will want, upgrade to the marketing plan for $2.95 per month. Ecommerce stores will need the eCommerce plan, which starts at $3.95 per month.
GoDaddy- Best for Basic Websites
GoDaddy is one of the most famous names in web hosting out there. So it's no surprise that they have their own site builder. But it's not fancy--it's just meant as a way to get users started on the GoDaddy hosting platform.
Pros and Cons
Pros
Barebones and simple site builder

Access to Getty Images stock photography for your website

Cons
Missing a lot of features common in other builders

It's very hard to transfer your website design to another platform

The program is cumbersome to use if your site has more than a few pages--not appropriate for large webpages

GoDaddy Website Builder Pricing
The GoDaddy builder includes quite a few really nice features for free. For example, you can do email or social media marketing, appointment booking, and accept PayPal. If you need more options, like selling on Amazon or Etsy, using SEO tools, or using a custom domain name, the upgraded plan is only $6.99 per month.
Quix - Best No Code Website Builder
Quix is the most potent Joomla page builder to create stunning web pages in minutes without writing a single line of code or hiring professionals. With 40+ powerful elements, 300+ ready blocks,100+ designed layouts, and a next-generation header and footer builder, Quix gives you everything to build a website visually without losing speed.
Pros and Cons
Pros
Real-time frontend editing
Readymade section designs
Readymade template designs
Prebuilt layout bundles and section block
Drag and drop page builder
SEO evaluation score
Cons
Animation design is not available
Element inside element missing
Multilingual Interface not supported
Quix Joomla Page Builder Pricing
Quix provides simple pricing at unbeatable value. With a decent free version, Quix comes with an extensive pro plan.
Free: Free with limited features and 18 elements.
Pro: $29 billed annually.
Mini Agency: $73 billed annually.
Agency: $122 billed annually.
Conclusion
Once you've narrowed down the sort of site you're looking to create and the features that you need to have on it, picking a website builder is a relatively straightforward matter of picking the one you like the best. With a clear set of goals in mind, one builder usually stands out above the crowd. You can migrate between builders, after all, though it is a time-consuming and labor-intensive endeavor. It's worth the time and effort to get it right the first time and pick a builder that you can stick with as your website and your brand grow.
Frequently Asked Questions
1. Why do you need a website builder?
Website builders provide an easy, hassle-free way of building a website without having to deal with complicated coding or other technical issues. If you lack technical expertise but still require a website for your business needs, you can easily create one through a website builder.
2. Which is the best website builder?
Pixpa is an all-in-one website builder with a built-in store, client galleries and blog. Use Pixpa's built-in SEO, marketing and social tools to grow your traffic and convert visitors to customers. It is the best website-building tool on the market, especially for creative professionals.
3. What are pros and cons of website builders?

Pros:
Easy to use making website building possible for even beginners and non-coders

Cost-effective since you do not need to hire a professional to create and manage your website
Most website builders come with built-in SEO and marketing tools.
Cons:
They are subscription services which means you do not own your website outright but have to pay a fee to use the service