Fashion trends are changing constantly. Styles and looks become old in a matter of months. In such a rapidly changing space, its a challenge for fashion models, stylists, photographers to showcase their work and themselves through a stylish and modern website that doesn't feel jaded.
The key to a great fashion portfolio website is of course to keep it fresh and new. Constantly adding images and work and changing the presentation style is the way to go. Treat your website almost like your Instagram feed - your visitors want to see something new every time they visit. Here is an example of top fashion website templates you can check.
We have rounded up a list of 17 awesome fashion portfolio websites built on Pixpa by famous fashion photographers around the world. Have a look at them and get some inspiration if you are looking to build your online portfolio website.
Here is our pick of 17 great Fashion Portfolio Websites
Jeremy Power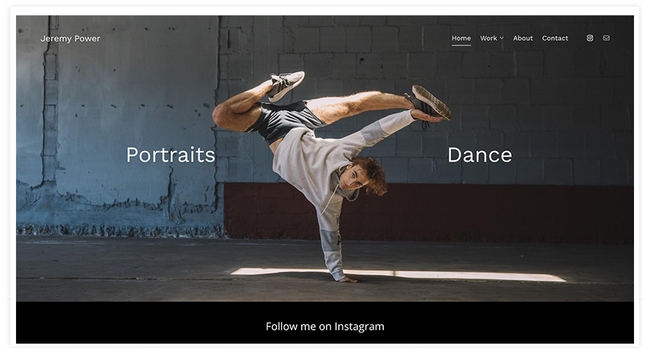 Jeremy Power is a freelance model and dancer based in Philadelphia. His portfolio website has a minimalist design style, that gives emphasis on his content - stunning portraits and dance shots, and creates a smooth browsing experience.
Tammuz Lee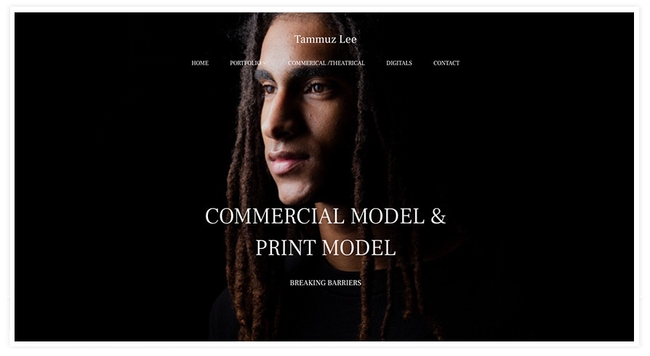 Tammuz Lee is an actor and model based in Los Angeles. He uses the home page of his portfolio website to clearly showcase his Modeling, Acting, and Digital portfolio.
Vaalin Studio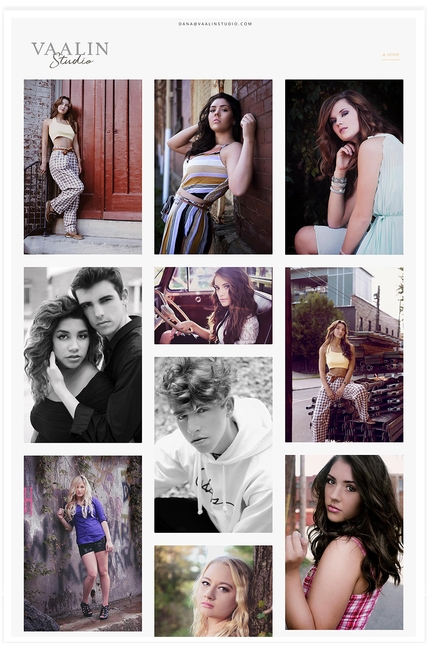 Ohio based Dana Ross' stunning website showcases her portrait photography in a grid-style layout. The website design is simple and her work speaks for itself.
Sao Paulo-based Rodrigo Paiva is an editorial and advertising photographer. His work in photography spans journalism, advertising, and fashion. From the runways of some of the world's most popular fashion shows to supermodels of the stature of Gisele Bundchen, Rodrigo has taken photographs of all!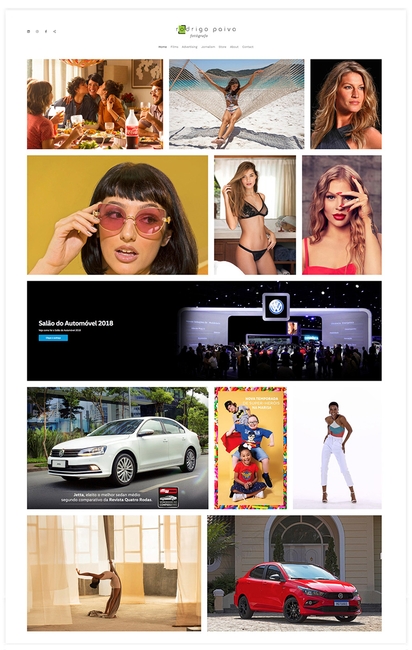 Jaydelyn Cearra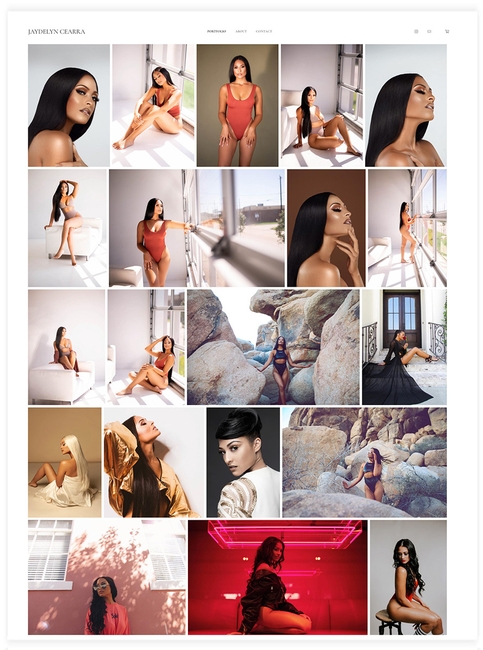 Jaydelyn is an aspiring model and lives in New Orleans, Louisiana. She has worked in fashion, editorial and print, as part of her modeling career journey. The diversity of her portfolio is showcased on the grid-style website home page, making it easy for the viewer to browse her website.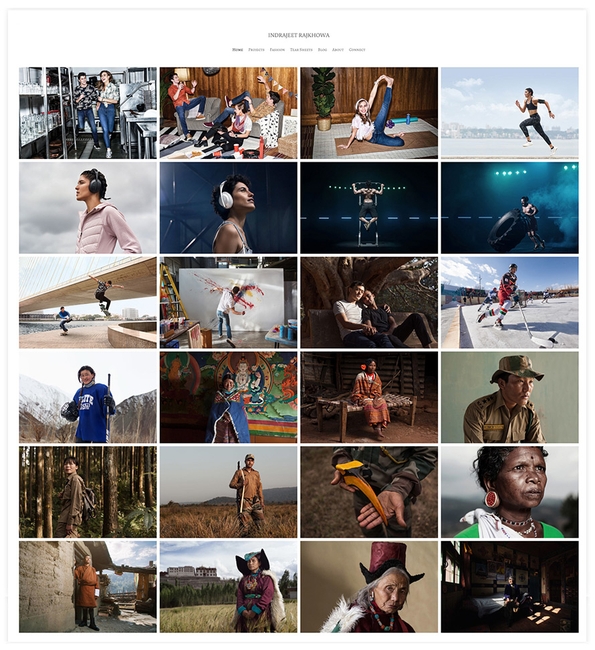 Indrajeet has worked with renowned names in the field of photography. His curiosity and camera have allowed him to capture the fine nuances and intricate details of life, from the rustic charms of villages to the faces and places of bustling cities, always making sure to pour his creativity and passion into his assignments. Currently based in Mumbai, Indrajeet enjoys shooting Portraiture and Fashion.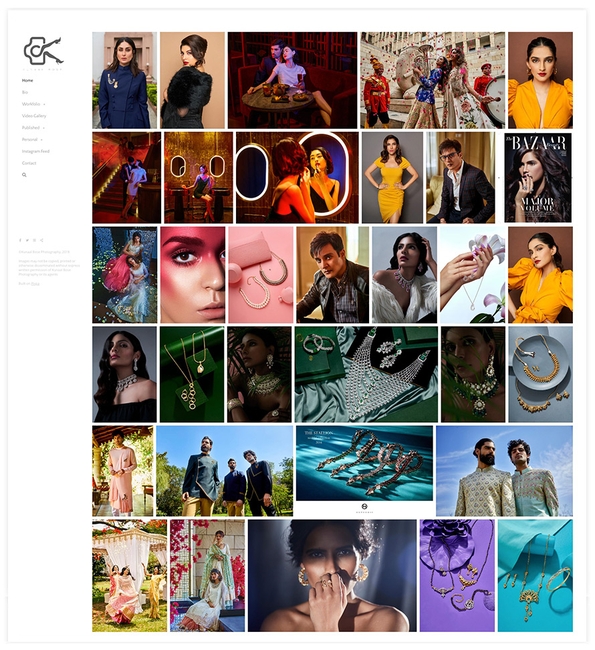 Kunaal Bose is a New Delhi- based creative consultant, with an avid interest in communication and advertising. His portfolio showcases a repertoire of work, ranging from cinemographs, celebrity, fashion, lifestyle, product, food photography, creative clothing photography, and more featured in print magazines.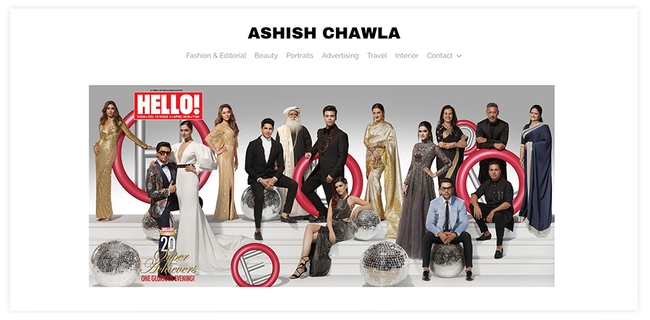 Ashish Chawla has worked with some of the A-listers in the fashion Industry. His photographs have graced the covers of fashion & lifestyle magazines such as Femina, Sports Illustrated, Good Housekeeping among others. His intermittent stints in advertising include taking photographs for Honda, Tag Heuer, Sony, Samsung, Revlon and more.
Amit Sharma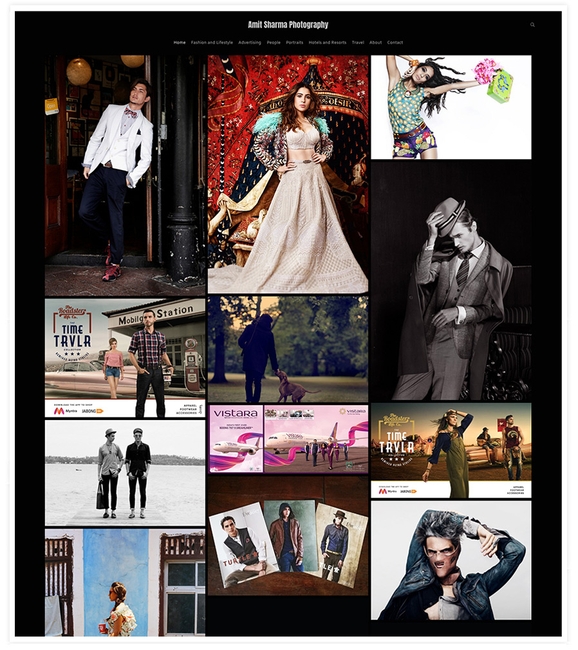 Amit Sharma is a photographer based in Delhi, working mainly in the field of lifestyle, fashion, portraiture, and travel. He has photographed for several multinational brands and his work regularly gets featured in the country's leading fashion and lifestyle magazines.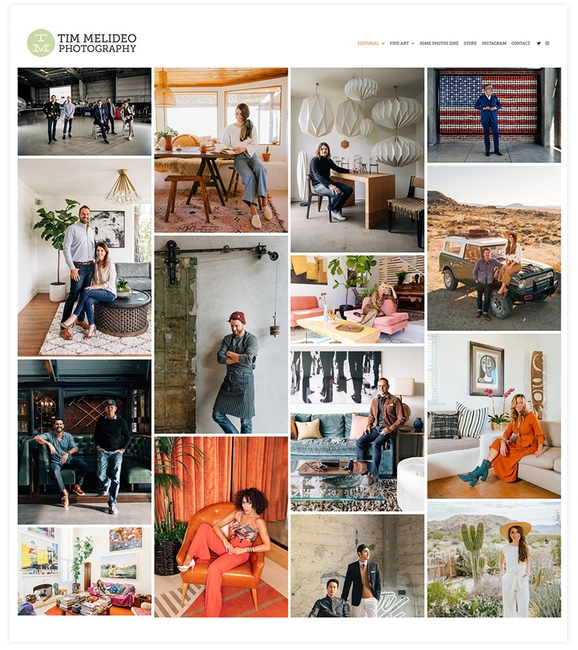 Tim has delved into travel, food, and interior photography besides fashion photography. His portfolio is a combination of his best fashion photographs taken for editorials and an online store through which he sells prints. If you are looking to sell prints on your fashion photography portfolio take ideas from here.

Angela Larotonda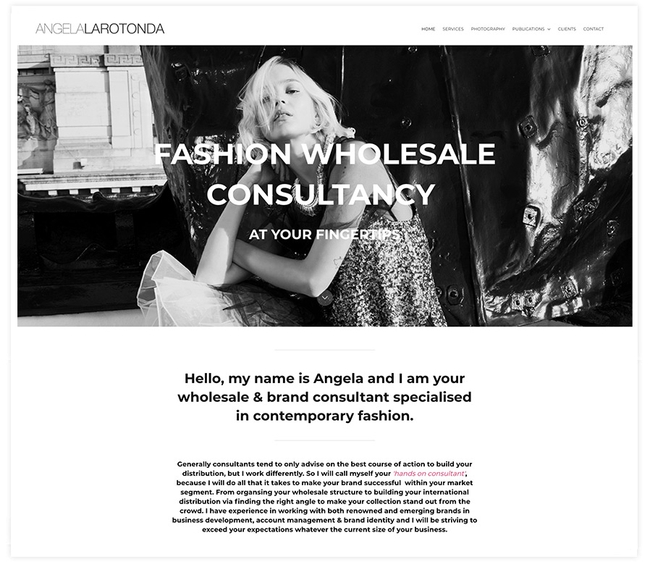 Angela is a brand consultant based in London. She works with brands in developing brand identity and helps them grow the wholesale business. She professes her love for contemporary photography on her blog and prides herself on knowing famous fashion photographers and the fashion industry inside out.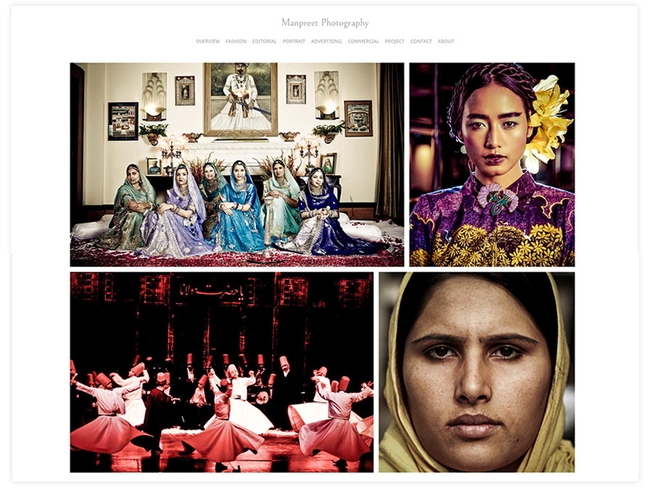 Manpreet is a Canada-based fashion photographer. He trained under India's first Hasselblad master Tarun Khiwal and he has created his own distinct style of photography. The grid-style homepage that showcases his work in fashion and portraiture photography and the clear menu on top of the website makes it easy for a visitor to navigate through his portfolio.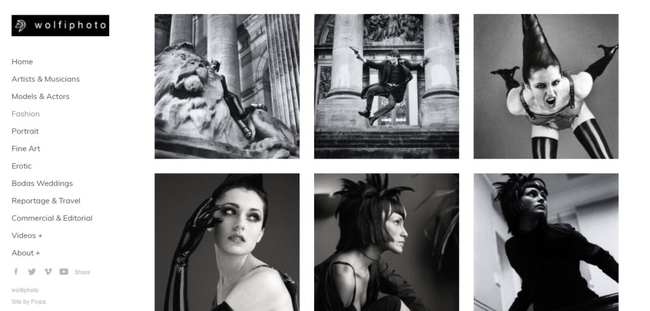 Johann is a Spanish photographer, who currently resides in Barcelona. His fashion photography portfolio is dominated by B&W fashion photographs that apparently characterize his style of photography. His biography where he explains creativity as an art of self-expression adds immense value to his portfolio website.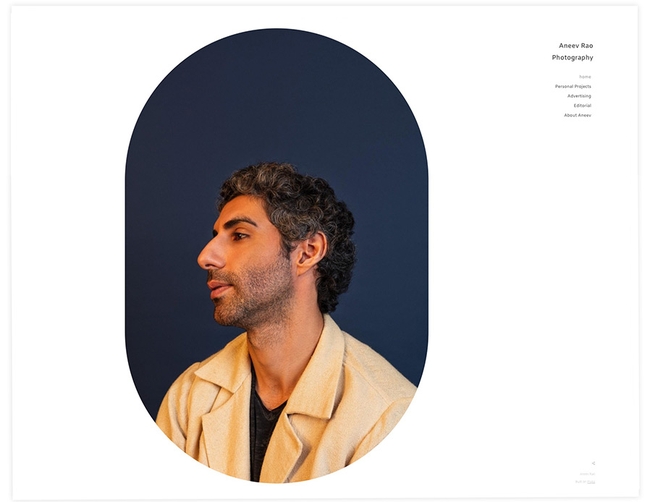 Mumbai based, Aneev Rao's portrait and fashion photographs have appeared on the covers of illustrious fashion magazines. His keen sense of observation, coupled with an eye for color, texture, and light is apparent in his advertising and editorial shots.
Olga Miljko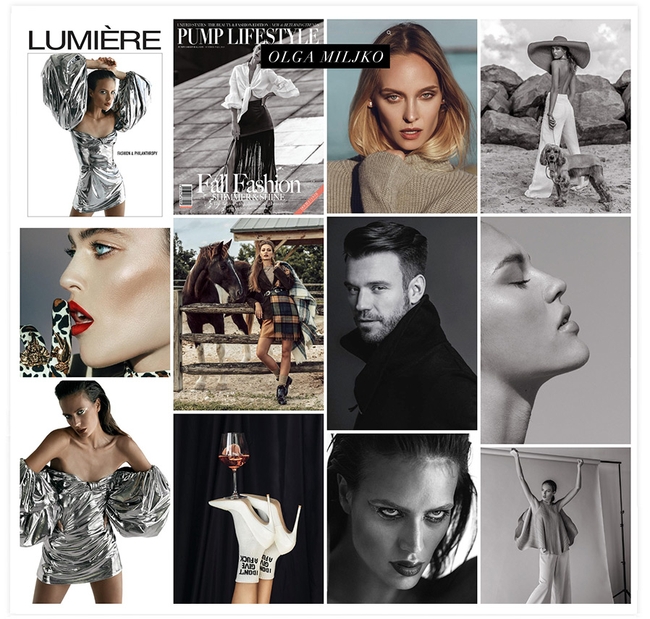 Olga Miljko is a Florida-based freelance fashion photographer. Her portfolio is a collection of fashion photographs taken for illustrious editorial and advertising shoots.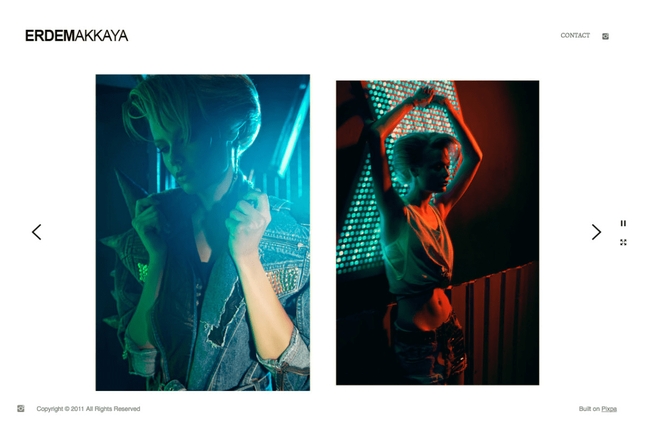 Erdem Akkaya is a Turkish fashion photographer. His fashion photography portfolio is dominated by a slew of bold photographs and is one of the best fashion portfolio websites you would come across. His choice of unconventional backgrounds and outdoor settings against the popping colours of the apparel lend an appealing contrast to his photographs. You can also find some rather bright photographs, apparently meant for editorials perhaps taken in the confines of his studio

If you wish to find the right models for your photoshoots, a simple guide on how to find models for fashion photography that'll help you.
All these portfolios are built on Pixpa. Want to make your own stunning portfolio? Start here.